Are you drawn to spiritually-based counseling, but not sure how to do it?
Would you like to learn the powerful soul-based tools and knowledge you need to be really effective?
Now you too can learn an integrated approach to a spiritual counseling certification training program. It's a practical and transformational spiritual course, from two leading spiritual pioneers…
We help people like you open to opportunities you might never have imagined possible before.
To be a spiritual counselor, you need effective tools, knowledge and support. With some skills, training and natural ability, you may feel guided to helping others with spiritual development.
Maybe you've already had some results in helping others, and you know you can work with them at an even deeper level. Maybe you also know there are some "missing pieces" that you need to learn to be consistently effective in helping others.
What's missing for you to be more effective and confident? The answer is having a systematic program. What's needed is spiritual counseling training that includes targeted, clearly presented knowledge. The tools and knowledge must be practical and soul-based, ones that have been proven to work well. Your spiritual counseling training also needs to include practicing and integrating what you learn.
With our signature systematic approach to spirituality-based counseling you can be confident in…
• having clarity and focus because of an easy-to-follow, comprehensive approach
• feeling self-empowered, knowing how to help yourself and others advance in the right direction
• being trained by leaders in the spiritual development field with over two decades of experience and a customized program
• experiencing a deep sense of joy and satisfaction because of the difference you make in people's lives, able to produce immediate results and helping people's lives magically transform
"After going through this program, I opened up to so many things in my life and feeling the freedom of spirit. I removed many fears, including even taking this program. It moved me forward for what I am here to do. Even many months after completing the Spiritual Counseling Home-Study Certification, I still regularly refer to the excellent books, cds and dvds - reviewing and finding more things to help me and others. I would recommend the program to anyone who wants to take the next step into spiritual counseling and stand out in a way they're being called to do, even if it takes a leap of faith."
--Joyce LeQue, Health Care Supervisor, Spiritual Counselor,
Palm Springs, California
How we came to be Spiritual Counselors and Pioneers and created this Program
A couple decades ago when we started our search for spiritual development, and wandered around in the wilderness of possibilities, often feeling alone and tossed from one thing to the next. We came to two essential realizations.
You need:
1) healing tools to remove personal blocks
2) to know how to put things in a spiritual context to develop fully
So we learned hypnotherapy, NLP, Reiki and other powerful healing techniques. We used these holistic techniques with individual clients and students in our certification courses starting in 1994. Then we added EFT (Emotional Freedom Techniques) and Spiritual Kinesiology* by 2000, which supercharged our results. We also became ministers of healing as well.
* As a note, we originated Spiritual Kinesiology, an easy-to-use method that accesses the soul for healing and guidance, which also uses muscle testing.
During the past decade, we produced many popular books, cds and dvds on EFT, Spiritual Kinesiology, intuition and life purpose. In the process of our work, we watched our students, others and ourselves grow. This led us to identifying the specific stages of spiritual growth people go through on their evolutionary journey.
We specialize in bringing lofty spiritual topics down to earth so they can be easily understood and applied. Over the years, we have become known for our ability to implement state-of-the-art techniques in ways that are very effective.
As a result, we developed a systematic Spiritual Counselor Home-Study Program to insure success for people, so you can feel confident in helping others. It comes from a depth of spirit that and several decades of experience and research.
What's included in the Spiritual Counseling Home-Study Certification?
Here is an overview of the Spiritual Counselor Home-Study Program. You will receive…
• Counseling skills for helping people: understand their purpose and unique gifts they are here to share; know their next steps for personal and spiritual growth…
• Easy-to-learn and proven healing tools including EFT, SK (Spiritual Kinesiology), intuitive techniques.
• Our unique, transformational GTT (Getting Thru) Techniques that we developed for detecting and clearing the challenging issues that hold people back
• Confidence and clarity on addressing core issues so you can help people to progress quickly and easily
• Powerful follow-up business development and marketing skills so you can create a successful professional practice if desired
This powerful and unique Program includes five specially developed, integrated courses -- and they are easy-to-follow.
Here is an overview of each course. Each one comes with tailor-made hard-copy books, cds and dvds, with step-by-step tools and information that are easy to assimilate and apply.

The course totals 154 hours of study and practice.
1. EFT (Emotional Freedom Techniques) Certification Course-- 36 hours:
Learn energy healing techniques that have been called a "modern miracle." EFT and our complementary deepening techniques (GTT) can allow you to help people to resolve issues that have been troubling them for months, years, or even decades... in hours or sometimes even minutes. EFT revolutionizes the way people understand their possibilities. The EFT tapping technique is easy to use, versatile and complements many modalities.
Hard-copy materials: Getting Thru to Your Emotions with EFT book, 2 cds, 2 dvds ($78 value)
2. SK (Spiritual Kinesiology) Certification Course -- 36 hours:
Offers a dynamic alternative to EFT, which some people prefer. It's sometimes even more effective. SK also puts issues and healing into the broader context of the spiritual path with essential information about the stages people go through. You will also learn how to use muscle testing with powerful checklists to analyze issues and quickly get to underlying challenges. With Spiritual Kinesiology, you can help people even more precisely because you understand what they are experiencing.
Hard-copy materials: Getting Thru to Your Soul book, 2 cds, 3 dvds ($100 value)
3. Spiritual Intuitive Certification Course -- 36 hours:
Learn a complete intuitive system that will allow you to feel confident about following your inner guidance, make the right choices, and create far deeper rapport with your clients.
Hard-copy materials: Getting Thru to Your Soul Intuitive Techniques workbook, 4 cds ($97 value)
4. Life Purpose Certification Course -- 36 hours:
Understand what makes people tick, their core similarities and differences, including their greatest lesson and greatest gift. Help them to understand their unique purpose and how to bring it into form – that literally has been life-changing for so many. You will learn the system of "overleaves," drawn from the Michael Teachings and Gurdjieff that identify people's distinguishing differences and similarities .
Hard-copy materials: Awaken to Your True Purpose Workbook and 5-CD set ($97 value)
5. Final Studies -- 36 hours:
Bring it ALL together by learning how to be more therapeutic and sharing your wisdom with the world by teaching classes. We also offer follow-up business development tools.
Hard-copy materials: The Heart & Soul of Being Therapeutic, The Heart & Soul of Teaching (3-ring binders) ($50 value)
Each course has a simple, step-by-step approach: study the materials, practice and take a test, which we will personally go over with you to conclude each of the five parts of this unique Program.
Each course takes about 5-10 weeks to complete. You will receive a certificate upon completion, suitable to display, for each course… plus your Spiritual Counselor Certificate when you finish the program. So the entire Spiritual Counselor Program takes about 8-12 months depending on the pace you choose to go since it is a home-study.
Is this Spiritual Counselor Program for You?
This high-quality, in-depth program is not for everyone. It takes...
being able to work independently over an extended period of time (each module takes a couple months to complete and there are 5 of them (you will receive a certificate after each one))
a serious commitment to integrate the profound knowledge and tools of the program
an investment in yourself of your time, money and energy (this investment will pay off handsomely if you follow through!). Ultimately, you're investing in you, your best resource.
The Spiritual Counselor Program is non-denominational. We accept the great truths of all spiritual traditions. We emphasize finding the truth through your own awakened inner wisdom and to connect deeply with the underlying unity in all things.
We also do offer other courses and programs:
If you wish to take one home-study course (versus the entire Spiritual Counselor Home-Study Program of 5 integrated courses), start with either of the two courses below...

1. EFT (Emotional Freedom Techniques) Practitioner Home-Study Course. Click here to learn more about the EFT Home-Study Course.

2. Spiritual Kinesiology (SK) Practitioner Home-Study Course. SK is an easy-to-use energy technique as powerful and effective as EFT. It can stand alone, complement EFT or other modalities. It also has the added benefit of healing directly with the soul's guidance. Click here to learn more about the Spiritual Kinesiology Home-Study Course.

If you start with a single home-study, you can followed up with other courses in the Spiritual Counselor Home-Study Program.
If you do feel guided to become a certified Spiritual Counselor, you can take your gifts out into the world and help far more people at a much deeper level. We encourage you to follow your heart, which of course we imagine you would "counsel" others to do so as well.
If you repress your heart's desires to grow and be more alive, what will result? And how effective will you be at helping others and making the world a better place?
We know this Program will be a stretch, and the rewards will come back many times, now and in your future.
Note: for people who live outside the United States.
Yes, you can take the Spiritual Counselor Home-Study Certification from anywhere in the world. You would just need to complete the requirements for the program.
HERE ARE YOUR TWO OPTIONS:
1. Start the first of the five spiritual coure home study coures, the EFT Home-Study Certification Course. Click Here for the EFT Home-Study Course.
OR
2. Apply for the entire Spiritual Counselor Home-Study Course.
Apply here now.



Bev Wood -- Sales Manager, Spiritual Counselor
Tucson, Arizona
"Even though I was very drawn to the Spiritual Counselor Program, I feared it was too big an undertaking. Was I up to it? I'm so glad I went ahead since it's what I really wanted to do. The program was very comprehensive. It really anchored me in fulfilling my purpose. Even though I've studied these areas for many years, it gave me great tools and knowledge that were clear, profound and kept me on track. It validated that my soul led me to this program."
| | |
| --- | --- |
| Holistic Coach/Healer, Spiritual Counselor Sacramento, California | "I initially wondered if this program would conflict with my spiritual beliefs. After taking it, I understood that it was a spiritually centered program and had nothing to do with religiosity. Coming into the program I had a strong connection with my inner guidance, but the program took me so much deeper. The EFT, SK and Intuitive tools I learned have been easy to use on myself and others. Also the "Being Therepeutic" course really helped me relate much better to others. A very well-rounded program that I highly recommend to others." |
Other Transformations
In addition to learning the step-by-step energy healing and the essential life purpose information, you will also get some major shifts and "ah-ha's…"
Connecting with yourself and others from a deeper, spiritual place has some incalculable benefits. People who take this program report that it makes a big difference in helping you to…
• Get your message out, in touch with purpose and spirit

• Enhance and increase the effectiveness of the methods you already know

• Actualize many more possibilities to create a joyful and fulfilling life

• And much more…
Certification and using your Spiritual Counselor Certification Training
Spiritual counseling is not regulated like psychological counseling by any governing board.
We at Awakenings Institute, a non-profit 501c organization, have been certifying people since 2004. Completing the program means you have met the standards that we set. In the process, you will acquire a wide range of tools and depth of knowledge you can use with yourself and others.
Being a spiritual counselor can help you to establish or enhance a practice, which includes teaching classes, developing materials online and offline. The full Spiritual Counselor Program comes with our "How to Market Your Holistic Practice," a step-by-step home study on how to develop a practice.
As a note, we offer this program in many countries, including Canada, Australia, New Zealand, Japan and the United Kingdom.
What's a Spiritual Counseling Certification Program like this worth?
You want to go further with your spiritual development and help others. So what would it be worth to do it in a systematic, enjoyable way – and go at your own rate without the additional effort and expense of having to travel?
What's it worth to have the knowledge and tools to help others (including yourself) at a deep, transformational level? The Spiritual Counselor Home-Study Certification Program can give you the ability and confidence that you wouldn't otherwise have.
Also keep in mind that this program will complement any other modalities and trainings you already have.
Remember this is a unique course that you can't find anywhere else. You will learn tools that you can use over a lifetime. There is nothing quite like an opportunity to learn from our many years of experience and trial-and-error in the field. Our experience and research has been distilled into this step-by-step program.
Pricing:
Some programs charge thousands of dollars, but we wanted to keep it affordable. If the price is a stretch for you that will just help you value your experience all the more.

The program costs between $225-$1100 depending on how far you go with it, that is, how many of the five certificated courses you take.
"I felt there was something missing in my life and enrolling in the Spiritual Counseling Certification Program was like landing home - this is what I was looking for."
--Anar Alibhai, Business Consultant, Holistic Healer
Calgary, Canada
Your Bonuses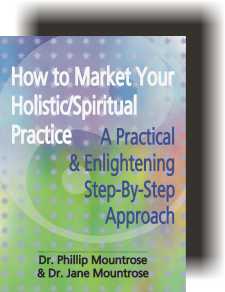 1. Our premium program "How to Market Your Spiritual/Holistic Practice." ($197 value) A step-by-step program on how to attract clients and create a prosperous practice. Includes connecting your practice with your purpose, crafting your message, finding your niche, writing an ezine and blog and much more. Fully downloadable 9 hours of audio, worksheets and e-handbook. Available for immediate download.
2. Also, for a limited time we are offering Free Shipping with your order.
Recap of what you will receive with the Spiritual Counseling Certification Program:
Concise, step-by-step workbooks taking you through each of the five courses.

In-depth Multi-media Hard-Copy Spiritual Counselor Success Library

Getting Thru to Your Emotions with EFT hard-copy book, 2 cds, and 2 dvds

Getting Thru to Your Soul hard-copy book, 2 cds, and 3 dvds

Soul Intuitive Techniques 3-ring binder workbook, 4 cds

Awaken to Your True Purpose 3-ring binder workbook, 5 cds

Heart & Soul of Being Therapeutic 3-ring binder Book

Heart & Soul of Teaching 3-ring binder Book
$347 retail value
And...
A beautiful Spiritual Counselor Certificate upon completion suitable for display
Plus individual certificates for completing the four courses within the program: EFT Practitioner, SK Practitioner, Intuitive Practitioner, Soul Purpose Advisor.
Plus...
Bonus "How to Market Your Spiritual/Holistic Practice" ($197 value): 9 hrs of audio tutorials, worksheets and handbook available for instant download once you enroll.
And here's just a sampling of what you'll learn:
How to use EFT and Spiritual Kinesiology in a systematic, comprehensive way to be consistently effective and confident

Dozens of strategic tips and insights on how to use energy healing and muscle testing for optimal results

How to use energy healing in specialty areas, like pain, peak performance, addictions, weight and smoking, stress, insomnia, relationships and more

Implementing the GTT (Getting Thru) Techniques to detect deeper issues, and then being able to elegantly resolve these thorny areas

Learning the 7 stages of spiritual development, to assess people on their spiritual journey and to be of greater assistance to them

Seeing the big picture in spiritual counseling, how to context problems, goals and aspirations for soul development, producing more long-lasting results

12 powerful versatile muscle-testing checklists to pinpoint where problems lie, to save time and energy and increase accuracy

How to use archetypes (patterns that often unconsciously program our responses) for spiritual development at different crucial points, at personal, group and societal levels

How to transcend societies fears to get free and embrace your life purpose

The Illumination Process, to easily track all 7 levels of healing for any issue you encounter

An easy-to-use intuitive map for reading yourself and others, with complementary tools to ground and guide your intuitive abilities. (Intuition is an essential component of spiritual counseling; and many students of this program --beginners and advanced intuitives alike-- have been impressed with this part of the program)

A comprehensive map detailing people's similarities and differences. Drawn from the Michael and Gurdjieff teachings, this part of the program will map out the 7 roles, goals, modes, attitudes, body types and chief defenses people have. Once you begin to understand this overview, you will be amazed at the insights, compassion and depth you can share with people.

The 7 keys to being therapeutic. Knowing how to have rapport, what to do and what to avoid, can make all the difference in your confidence and effectiveness

How to teach effective classes. Knowing the nuts and bolts of how to teach your knowledge, tools and gifts to other is a natural outgrowth of spiritual counseling and advancing spiritually and much, much more...
If you are interested, please take action now.. We can also go over with you various options and courses that best meet your personal needs, including different payment options.
If you are interested in this program (or other related ones) please fill out the application below and we will contact you within 48 hours.
Filling out this short application will help you get clarity on what you want and let us know best how to help you. If it's a good fit, we will show you how to get started immediately.
Heather Nodello,
Holistic Practitioner
Windsor, Canada

"I have DEFINITELY benefited from taking this program!! I am now fully experiencing my life purpose and loving it more every day. This program has taken me farther in my own spiritual development than I thought possible for this lifetime. I've connected with all of the materials and the way in which the information is presented (I have several learning disabilities so was nervous when I first began). I learned process and discipline through this program.

I feel blessed to have found you all the way in California because it has truly transformed my life -- and others' lives because of what I have learned from this program."
Frequently Asked Questions
Q. What will I be able to do with my certification?

Certification comes with meeting the requirements of this program established by Awakenings Institute. Everyone who takes this program will receive a powerful toolbox of healing and coaching tools, which they can put into immediate use. This translates into enormous advances in personal growth and effectiveness in transforming one's own issues as well as helping others. Some people choose to use this certification to build or enhance a practice as well.
Q. What is the investment in the program?

There are different payment plans. Most people start by investing in the first of the five home-study courses that comprise this program, the EFT Home-Study Certification Course. They then go on to the next course after completing the first one.
Since its inception in 2006, people from all around the world have taken the program. It's thoroughly tested and effective.
People who do invest in the Spiritual Counseling Certification Home-Study typically report that it is one of the best investments they ever made because of the quantum shifts in understanding they receive, the powerful array of hands-on tools, clarity on their life purpose and more....
We recommend applying for the program so we can go over the different options and see what is the right fit for you.
HERE ARE YOUR TWO OPTIONS:
1. Start the first of the five spiritual coure home study coures, the EFT Home-Study Certification Course. Click Here for the EFT Home-Study Course.
OR
2. Apply for the entire Spiritual Counselor Home-Study Course -- see below.
Apply Now and Get a Complimentary Personalized "Planning Session"
If you think this program may be for you, here's your next step:
Click on the link below and fill out the brief application form on the next page. When we receive your responses, we'll review them promptly, get back to you and, if appropriate, offer you a personalized Planning Session.

In this Planning Session, we'll explore where you are now in your life and career, where you want to go, challenges that might stop you from getting there, and steps you can take to ensure your success.
We'll answer any questions you might have about the Spiritual Counseling Home-Study Program and we'll see if it's the right step for you. We also can suggest other related courses and offerings that could be very valuable for you.
We look forward to connecting with you.
To the heart of your success,


Phillip and Jane Mountrose
Founding Directors of Awakenings Institute and the Heart of Success Academy
PS, This program is not for everyone, but if you think it might be for you, take this opportunity to apply now. Otherwise you may miss out on a life-changing opportunity. Don't leave yourself wondering what you've missed.
A spiritual counselor guides others to follow their heart in the decisions they make. What is your heart guiding you to do now?
UNDECIDED?
Here are two options for moving forward...
1) Check out our affordable, high-quality EFT Practitioner Home-Study Certification Course.
It's also the first of the 5 Home-Study courses that comprise the Spiritual Counselor Program, if you decide to do that at a later time.
CLICK HERE to find out
more about EFT Home-Study Certification now...
2) Take our Free Mini-Course:
"The 5 Essential Keys to Becoming a Spiritual Counselor"
Just enter your name and email address here and get your first lesson immediately
in your email box.
* Double-check the email address you entered above
for accuracy to ensure you receive your FREE MINICOURSE.
You'll also receive our weekly "Heart of Success" Newsletter.
PRIVACY ASSURED. Your email address is never shared with anyone.